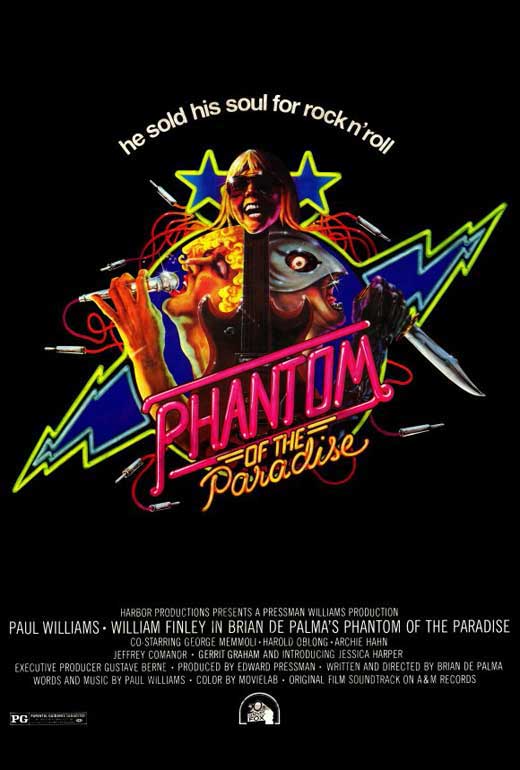 You can hear about a movie dozens of times before you ever get around to seeing it. This is especially true of films that are tiny cult movies, and hard to track down. My high school weekends were spent watching, sometimes over and over again, that granddaddy of all cult movies, "The Rocky Horror Picture Show." But there's a film that pre-dates Rocky by a year that deserves to have just as much attention as it has, a film that I had often read about in tiny snippets online, but never had the chance to see. That film is 1974's "Phantom of the Paradise."
"Phantom of the Paradise" is one of those unique films that Hollywood studios used to be wiling to spend money on. It was, in many ways, destined to become a cult classic. Now is a perfect time for the film to be discovered by new fans. I first saw "Phantom" earlier this year, when my curiosity required the rental of the film from iTunes--something I do only when I can't resist seeing a particularly hard to find film. The film is now back in a new super deluxe, two disc blu-ray treatment, which was recently released by Scream Factory (a horror only sideline from those masters of all things awesome, Shout Factory).
An early work from writer/director Brian De Palma, "Phantom of the Paradise" is a wildly enjoyable, funny, mash up of "Phantom of the Opera" and "The Picture of Dorian Grey," with a splash of "Faust" thrown in for good measure. All of this filtered through the lens of the world of mid 1970s Rock and Roll, with a healthy dose of glam. The horror/rock/glam mash up, with it also being a musical is why the film has always floated around outside of the Rocky Horror wheelhouse. Anyone who is a fan of Rocky, is bound to like this movie.
William Finley stars as Winslow Leach, a nerdy songwriting hopeful that is working on a pop cantata based around the "Faust" tale. Leach hopes to make it big, but can't seem to break into the music scene, which is largely ruled by Swan. Swan is a mysterious music imprisario, a Phil Spector-esq analog, played by singer/songwriter Paul Williams. Williams was best known at the time for being a hit making songwriter, cranking out tunes left and right at A&M records, and for us who missed the 1970s, we might know him best for writing songs for "The Muppet Movie" with Kenneth Ascher.
Not only playing Swan, Williams also provides the songs for this film, and they're absolutely wonderful. The music touches on song styles from all throughout the rock and roll universe. Much in keeping with the "Opera" source material, "Paradise" unfolds as Swan steals Leach's music in order to open his new rock venue, the aforementioned Paradise. Swan frames Leach on drug charges, and has him imprisoned. Leach breaks out, breaks into Swan's record HQ, Death Records, and attempts to sabotage the pressing of his stolen music. Instead of being scared by acid, our Phantom receives his damage from his head falling into a record press. A move that not scars his face, but destroys his vocal chords as well.
Leach then takes to the underground of The Paradise, donning a owl mask/helmet combination, and begins to terrorize the theater. There's a love story as well, Winslow fell for a young female singer named Phoenix (Jessica Harper) prior to his "transformation." In at attempt to sabotage the first rehearsal at The Paradise, by putting a bomb into a prop car on stage, Swan catches up with Winslow, and offers to put him under contract. He gives Leach a voice box, tells him he wants him to finish his pop cantata. Winslow insists that only Phoenix can sing the music, which Swan agrees to, but in reality changes his promise and gives it to a drug addicted Glam head named Beef, in a brilliantly funny portrait by Gerrit Graham.
It's a crazy good film. A wild movie, smart, quickly paced, with really great songs, and a satirical overtone that has hardly aged. The film is one that I can highly recommend, the new blu-ray set from Scream Factory is overflowing with extra features and goodies. "Phantom," much like "Rocky Horror," was a huge bomb when it was first released, but over time it's cult following has blossomed. Were you curious as to why Paul Williams worked with Daft Punk on their latest album? Why he accepted the Album of the Year Grammy on their behalf? Daft Punk are fans of "Phantom of the Paradise."
As much as I can tell you why you should see it, as much as the original trailers and TV spots failed to market the film, it is one of those films best experienced by seeing it. Long out on print on a no frills DVD issued years ago, "Phantom of the Paradise" is back in the first edition to seriously appreciate the film with the respect it deserves. It's never been easier to see the film, and it's absolutely worth doing so. You won't even have to sign a contract in blood to do it.