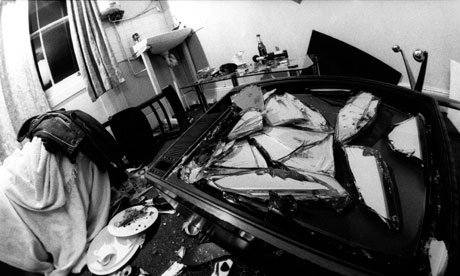 Thanks to my numerous speaking engagements across the country, the organization that is AndyCo has become a mighty beast. As such, I have reached the stage in which a rider is now required. A rider is a list of requests and demands that an important artist like myself needs in order to perform at optimal quality. Since my booking office has been overwhelmed with requests, I've decided to make my rider public so everyone can know what they're getting in to. Personally, I don't think my requests are all too strange or out of the ordinary. All together, they make a very simple list of requirements that anyone who is running around the country would ask for. The following is copied verbatim from my rider.
Mr. Ross requests that fresh towels, color of blue, are on hand for every performance. No more than five, no less than three.
Mr. Ross REQUIRES that Evian bottled water be on hand, chilled to an exact 45 degrees fahrenheit. It is also required that this water be delivered to Mr. Ross when he calls for it by a grandmother of three, who firmly believes that the New York Times crossword puzzle is a conspiracy to take away her medication. This is non negotiable.
It is requested that a school choir learn the entirety of Issac Hayes' classic album "Hot Buttered Soul" and be on hand to sing it at the drop of a hat. The hat will be dropped by a member of Mr. Ross's team, known as "The Hat Dropper."
Mr. Ross needs a room to relax in post show, this room must be kept at 74 degrees, contain a record player, and a tub full of granola and yogurt. The venue must also provide a fresh copy of Monopoly to be played post show as well. This game will be destroyed after completion, Mr. Ross has no wish for you to profit by selling it on eBay.
The green room should have a bowl full of twinkies in it. However, it is required that these twinkies be only the ones that are directly below the logo on the package. If it is found out that any non-logo covered twinkies have been included, all hell will break loose.
No one is allowed to make direct eye contact with Mr. Ross. God help you if any of your venue staff does this.
Mr. Ross will only greet backstage guests half an hour after performance, only while resting on a fainting couch.
There you all have it, a little look at the very reasonable demands I have for my art. So far the venues have been great about keeping up with my rider, I've only had to sue three of them. Good times, good times. See you on the road!